Foto is Diplomat at Soccer Match in India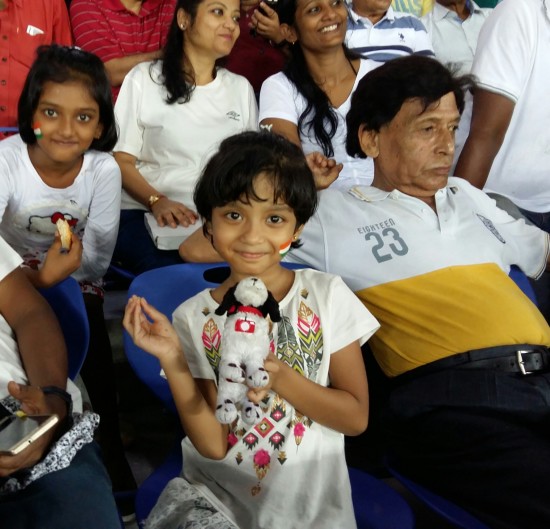 Longtime phoDOGrapher from India, Chinmoy Majumdar is always looking for clever ways to promote diplomacy with DogMeetsWorld! Recently he shared this story:
Even though security was extremely tight, I decided to bring Foto (the little dog mascot) with me to watch the FIFA World Cup Match (Chile Vs. England) at Vivekananda Uvabharati Stadium in Salt Lake, Kolkata. FIFA U-17 World Cup was taking place and being broadcasted around the world. No one was allowed to take anything except mobile phone and wallet. But FIFA security personal allowed me to take mascot dog with me after my explanations on diplomacy. At the stadium entrance gate one of our national TV channels NDTV, had a reporter who saw Foto was interested to do a spot interview to learn why I had this stuffed dog with me. I described the significance of our photo diplomacy and described Foto as the mascot of Dog Meets World. It was a wonderful experience explaining how Foto is a mascot of good luck, love and friendship just before the soccer match started. Inside the stadium fans surrounded me and were asking me about Foto and excited after knowing the significance of the project.
Thank you Chinmoy for always introducing Foto and Dog Meets World to others and sharing your enthusiasm for connecting people through peace and love.